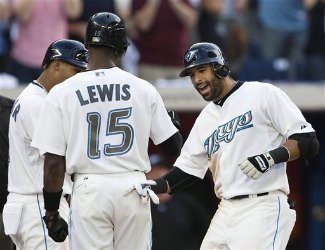 Dear Toronto
Blue Jays
,
Trade
Jose Bautista
. Right now. Best offer you can get by Saturday afternoon, take it.
Yes, he's the talk of the town, and one of the only reasons anyone is paying attention to Blue Jays baseball. The fans will raise a stink. But you have to bite the bullet and do it anyway.
The night before the trade deadline, the guy hit a grand slam. He's showcasing himself! By the time the ball cleared the wall, Alex Anthopoulos should have been hitting speed dial for whatever GM made the last offer. The idea is to sell high, and his value is never going to be higher than it is right now.
Nearly 14 percent of the times Bautista has come to the plate this season, he has hit a home run. He's hit 196 fly balls, and 31 of them -- nearly one in six -- have gone over the wall. These are not, as the stat folks say, "sustainable skills." Other teams will know this, but other teams who are under immense pressure to win a championship will not care at this particular moment.
Fact is, Jose Bautista is a .241 career hitter who other than this year is good for about 15 homers a year. The overwhelming odds are that he is going to go back to being that guy, or at least closer to being that guy than the monster you've seen this season. In all likelihood, 2010 Jose Bautista is 2000 Richard Hidalgo (44 homers, no more than 28 any other season). He's 1996 Brady Anderson (50, 24). Bautista is 29 and he's been in six organizations -- if he's got
Albert Pujols
potential, someone would have figured it out by now.
You're trying to build a team, and you don't need career-average Bautista as much as you need the multiple pieces you can get for him in the next few hours.
Trade him.
-- David Andriesen

For more baseball news, rumors and analysis, follow @cbssportsmlb on Twitter.