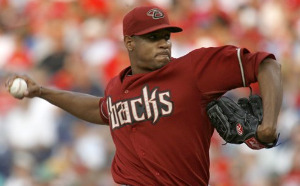 After blanching at the asking price of
Adam Dunn
by the
Nationals
, the
White Sox
went in a different direction and scooped up starter
Edwin Jackson
from the
Diamondbacks
.
The ChiSox outmanuevered the Nats for Jackson -- Washington reportedly lusts after the 26-year-old who is signed through 2011 before becoming a free agent.
Jackson experienced a breakthrough year in 2009 for the
Tigers
, posting a 3.62 ERA in 214 innings, winning 13 games. Prior to that, he was an inconsistent, back-of-the-rotation starter for the
Rays
after coming over from the
Dodgers
. Jackson has backslid thus far this year to a 5.16 ERA, thanks to a regression in his walk rate. He still remains a quality young arm, even if $8.35 million due his way in 2011 and a total of $4 million in 2009 make the right-hander pricey.
The Diamondbacks made Jackson available both due to price and the fact that the club is rebuilding after shipping
Dan Haren
to the
Angels
. Jackson gives the White Sox a mid-rotation starter, something they were seeking along with a thumper. To get Jackson, the Pale Hose will surrender
Daniel Hudson
and prospect David Holmberg.
Hudson made his debut in 2009 as a 22-year-old and while he doesn't have a high ceiling, is ready to pitch in the big leagues now and can give the Diamondbacks years of cost-controlled salaries with the potential of seeing Hudson develop into a No. 2 or 3 starter (the latter more likely). Hudson has strong strikeout rates in the minors that he has been able to translate to the majors, but his control has taken a beating. He needs as much time in the majors as possible to get familiar with the strike zone which will only happen on a non-contending team. Whaddya know, that's Arizona.
Holmberg was drafted in the second round of the 2009 draft and threw up a 4.72 ERA between the bullpen and rotation for the Rookie club as a 17-year-old over 40 1/3 innings.
Baseball America
labeled Holmberg the ChiSox's eighth best prospect entering the season, projecting him as a workhorse in the rotation.
Repeating the level for 2010, Holmberg has a 4.46 ERA in eight starts, walking nine and whiffing 29. He's an intriguing prospect and along with Hudson may actually give the DBacks a far more tantalizying package than they got for Dan Haren. Funny how that works.
Also, the Diamondbacks are certainly hoarding picks from the 2009 draft, as Nick Piecoro from the
Arizona Republic
points
out. With Pat Corbin and Tyler Skaggs from the Haren deal along with Holmberg joining 'Zona's prospects, the team has 11 of the first 95 picks in the draft inside the organization.
Will Chicago hang onto Jackson? It's very possible, but it's also possible that the White Sox use Jackson as a means of getting Adam Dunn.
-- Evan Brunell


For more baseball news, rumors and analysis, follow @cbssportsmlb on Twitter.