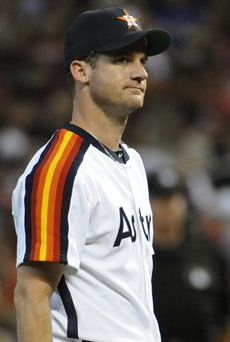 The
Phillies
have completed a deal for Houston's
Roy Oswalt
, which will give the Phillies a vaunted Big Three in the rotation along with
Roy Halladay
and
Cole Hamels
.
Wednesday night,
we learned
that the Phillies and
Astros
agreed on an Oswalt trade, with only the ace's approval needed. That has come.
Oswalt will bring a 6-12 record that will unquestionably start trending positive with the Phillies behind him. What the Phillies want more than that record is his 3.42 ERA in 129 innings, having struck out 120 and walked 34. Oswalt looked like the years of being a bona-fide ace were behind him after a poor 2009, but his 2010 has answered those questions and more.
While Philadelphia clearly erred in letting
Cliff Lee
go, it's to GM Ruben Amaro's credit that he struck for another pitcher and hasn't allowed the trading of Lee in the offseason to impact his decisions. Unlike some would do in his position, Amaro realized that the Lee deal was done -- finished. A sunk cost. You don't make decisions about the best way to improve your club moving forward by bemoaning moves of the past.
In addition, while Lee is a superior pitcher to Oswalt, Amaro also positions his rotation better for future success what with Oswalt under contract for 2011. Lee, of course, will command an exorbitant price as a free agent this offseason.
The Phillies also scored a coup by getting Oswalt to agree not to demand his 2012 option be exercised. According to ESPN's Amy Nelson, Philadelphia
will instead
allow Oswalt's no-trade clause to be retained as well tacking on an extra million to his 2012 buyout.
FOX Sports' Ken Rosenthal says that the 2012 option is actually a mutual option, and if Oswalt declines his end of the option, the buyout is unchanged. If the Phillies exercise their end and Oswalt opts out, that's when the buyout increases -- thought to be $2 million.
Given Philadelphia still retains the potential to pick up the option for $16 million, that extra million is certainly worth the protection of not having to lock into 2012. Given Oswalt has had multiple back problems along with a bevy of wrist issues, not being locked into a soon-to-be 33-year-old is a smart move.
But that's not all the money Philly saves. The organization will also receive cash to help cover Oswalt's deal -- $11 million to be exact, according to
ESPN.com
. Oswalt is due roughly $25 million for the rest of the contract, including the 2012 buyout. The fact that Houston will foot the bill for almost half that total is impressive.
The trade is a three-for-one deal, with
J.A. Happ
the centerpiece headed to Houston along with two minor-leaguers.
Happ broke through in 2009 with a sterling 2.93 ERA in 23 starts and 12 relief appearances. While he helped propel Philly to a second consecutive NL pennant, he is simply a mirage. His BABIP has been unbelievably low in his major-league stints with a sky-high runners-stranded-on-base rate without a K/BB ratio approaching solid. It's why his xFIP last season was 4.49, and why one shouldn't be fooled by his 1.76 ERA through three starts in 2010 with an xFIP of 6.33. Anyone who strikes out five batters a game and walks seven will not see a sub-2.00 ERA last long.
Happ was injured in mid-April after making two starts and recently completed a rehab assignment but was assigned to Triple-A to continue his rehab. He was called up to the bigs to start on Sunday after
Jamie Moyer
hit the disabled list. Happ is essentially the NL version of
Daisuke Matsuzaka
-- doing it all with smoke and mirrors.
The two prospects in the deal are
Anthony Gose
and
Jonathan Villar
.
Gose is only 19, and is currently trying to make his bat come alive at High Class A Clearwater, an aggressive level for his age. He's hitting .263/.325/.385 in 461 plate appearances, swiping 36 bases. He has a lot to learn about baserunning, however, as he's tacked on 27 times being caught stealing. Gose was ranked the No. 6 prospect by
Baseball America
in the offseason and was also named the best defensive outfielder in the system.
Gose is being spun to Toronto, who wanted the youngster in the Roy Halladay deal -- and uses a trade chip acquired in the Halladay deal to get it done.
According
to Rosenthal, Brett Wallace is being sent to Houston, whowas traded to Toronto from Oakland for Michael Taylor, who had been acquired from Philadelphia in the Roy Halladay trade. One could argue, then, that the Jays apparently preferred Gose to Taylor, but that Philadelphia wouldn't give him up.
The 23-year-old Wallace is hitting .301/.359/.509 for Triple-A and is in his first season as a full-time first baseman. He figures to be the long-term replacement for
Lance Berkman
in Houston, although one has to wonder about Wallace's talent now that he's been traded three times in a two-year span. (He was sent to Oakland by St. Louis in the
Matt Holliday
trade last season.)
As for the prospect from Philly that is staying in Houston, the 19-year old Villar is playing for Class A Lakewood and hitting .271/.322/.358. There is not a lot to like here about the shortstop, though he is admittedly raw. Gose is raw too, but has a higher ceiling and some semblance of tools. One thing Villar has going for him is he can pick it on defense despite a staggering 42 errors in 99 games which isn't really indicative of fielding talent at that level.
Altogether, it is a rather underwhelming return Houston received for Oswalt. It is clear that the Astros sold Oswalt at a discount, much like Arizona and
Dan Haren
.
-- Evan Brunell

For more baseball news, rumors and analysis, follow @cbssportsmlb on Twitter.