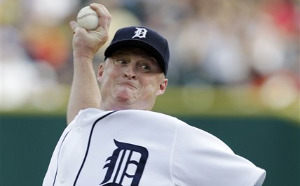 It's not often a 27-year-old making $12.5 million considers walking away from the game.
Yet, that's exactly what
Jeremy Bonderman
is considering.
Bonderman missed the vast majority of the 2008 and 2009 seasons thanks to right shoulder surgery. Now, he's finally back and in the final year of his contract. He currently has a 5.05 ERA (4.46 xFIP) in 108 2/3 innings, striking out 76 and walking 30.
"I feel I have a lot left," Bonderman
told
the
Detroit Free Press
. "If I really w.ant to play, I can play. I'm just kind of thinking about it. I don't know if it's what I'm going to do."
Bonderman feels he has three choices: resign with the
Tigers
, sign with a team out West or retire. Retirement has been on his mind ever since his injury problems and he finds himself thinking more and more about spending time with his children in-between taking turns on the mound for a Detroit team hungry to make the playoffs
"[Owner Mike Ilitch] and the Tigers' organization have given me an opportunity to provide for my family really well, and I feel like I've saved a lot of money and I have the ability to be able to do what I want -- whether it's be with my kids every day or go on fishing trips with my dad or brothers," Bonderman added.
He can certainly afford to retire, as he will have made around $41.33 million over his big-league career, according to Baseball-Reference.com. But he could make so much more with even just a few more years into the game and still retire young.
Detroit has a lot of money coming off the books, so it is possible they could seek to bring Bonderman back into the fold even though they have
Justin Verlander
,
Max Scherzer
and
Rick Porcello
projected to front the rotation next year.
In addition, there are plenty of teams out west who may want Bonderman to join their team. Teams in need of pitching on the West Coast number every team playing on the coast. So while retirement may be a palatable option, it's far from a sure thing Bondo will retire.
After all, he's an accomplished starter who will be just 28. There is a market for that -- whether in Detroit or out west.
-- Evan Brunell

For more baseball news, rumors and analysis, follow @cbssportsmlb on Twitter.