As the July 31 non-waiver trade deadline looms, the CBS Facts & Rumors team will look at the biggest players leading up to the deadline. This week we'll look at the teams who will be talked about the most; next week will be the players who might be moved.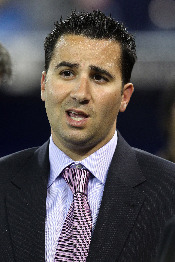 The
Blue Jays
have a winning record, and for a while it sounded as if they were going to load up and make a serious run at the playoffs. But after taking a realistic look at the landscape in front of them – they are fourth in their own division – it looks like the boys up north have decided to punt. They already pulled off one trade, swapping shortstop
Alex Gonzalez
for younger model
Yunel Escobar
on July 14.
Record:
48-47, 12 games behind and in fourth place in the American League East. Seventh in the AL wild-card race, 9 ½ games back.
General manager:
Alex Anthopoulos, first year
Expectations:
Building. The Jays are in the frustrating position of being a decent, but not great, team in a division that includes a couple of payroll bullies. But as the
Rays
have shown, you can overcome that by building smart.
Payroll status:
Opening day payroll was $62.7 million, 22nd in baseball. The Jays have about $44 million committed to contracts and pro-rated portions of signing bonuses for 2011.
What they have to offer
Scott Downs
might be the best reliever on the market. The left-handed middleman has a 2.52 ERA with 30 strikeouts in 39 1/3 innings, and hasn't given up an earned run since June 6. He had some neck and arm soreness just before the break but has been unrestricted since.
The Jays are apparently asking a lot for Downs, scaring away some suitors. But he's likely to be a Type A free agent after the season, which means Toronto could get two first-round picks if he leaves as a free agent. Even saving the rest of his salary (about $2 million left for the year) doesn't make it worth trading him if they can't get at least that level of talent back.
Major-league home run leader
Jose Bautista
(.238/.354/.542) is looking like a very attractive quick fix for teams in need of power. He can play any outfield position as well as third base. But he doesn't hit for average, he will get a big salary bump in arbitration next year, and the Jays are reportedly asking a lot for him. Still, the
Giants
,
Braves
,
Tigers
and
White Sox
appear to be in play.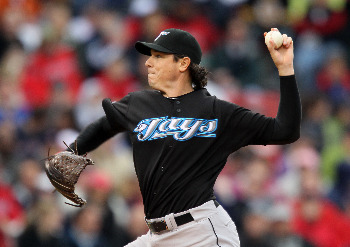 Reliever
Jason Frasor
has been erratic this season (check out his ERA by month: April 8.38, May 0.82, June 6.75, July 1.35) but when he's on he has shown the ability to be effective against righties and lefties.
First baseman
Lyle Overbay
(.251/.330/.412) is an impending free agent the Jays would like to deal, though there are better first basemen on the market and Overbay is making $7 million this year.
Catcher
John Buck
(.285/.315/.518) was an All-Star and is an attractive and cheap ($1 million left for this year) power option, and the Jays have prospect J.P. Arencibia waiting in the wings.
There are conflicting reports on whether Toronto is shopping closer
Kevin Gregg
, who has been reliable and has a manageable $4.5 million club option for next season.
What they want in return?
The Jays are reportedly asking for middle infielders, which is odd because they control both of their starters through at least 2013. Maybe they're looking for someone they can convert to third base.
They could use some starting pitching prospects to throw into their mix, and if they trade more than one of their relievers they'll need reinforcements there.
Predictions:
Bautista goes to the Giants, who finally give in to Toronto's demands. The
Mets
get either Downs or Gregg. Overbay goes and Buck stays.
-- David Andriesen
More trade deadline chatter -- Buyers:
New York
Yankees
,
Los Angeles
Angels
; Sellers:
Florida
Marlins
For more baseball news, rumors and analysis, follow @cbssportsmlb on Twitter.