As the July 31 non-waiver trade deadline looms, the CBS Facts & Rumors team will look at the biggest players leading up to the deadline. This week we'll look at the teams who will be talked about the most; next week will be the players who might be moved.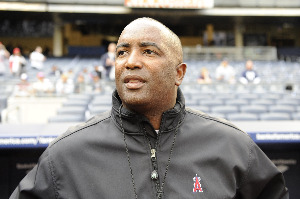 The
Angels
are talking a lot of big talk about having the resources to get whatever is needed to overtake the
Rangers
-- who have added
Cliff Lee
and show no signs of slowing down -- in the American League West. So far, however, it hasn't amounted to more than talk. If Tony Reagins doesn't improve this team in the next couple of weeks, expect heavy criticism in L.A.
Record:
51-45, five games behind Texas and three ahead of Oakland in the AL West. Third in AL wild-card race, 6 1/2 games behind Tampa Bay.
General manager:
Tony Reagins, third year
Expectations:
High. The Angels are outspending Texas by $50 million in payroll and winning despite injuries and underperforming players. Nothing short of the playoffs will be acceptable.
Payroll status:
Opening day payroll was over $105 million, eighth-highest in baseball, and the Angels already have more than $80 million committed for next year.
What they need

Bullpen help:
The Angels have been living on the edge in the late innings, and their bullpen has a 4.48 ERA, 12th in the AL. They haven't had anybody step up -- only
Fernando Rodney
(3.29) has an ERA under 3.80.
Starting pitching:
The Angels are ninth in the AL in starters' ERA, and would like to at least find a fifth starter with nothing panning out in-house. They traded for
Scott Kazmir
at last season's deadline and he has been awful (and is now on the DL).
A bat:
When first baseman
Kendry Morales
suffered his infamous celebratory injury, breaking his leg and knocking himself out for the year, it was a big
blow to the Angels' offense. If they are going to make a big move, it's probably going to be for a first baseman or third baseman with pop.
Who may fit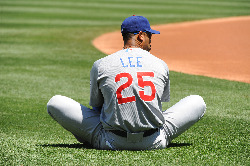 Starting pitcher:
Not many teams could take on
Roy Oswalt
's contract, but the Angels -- cash-rich and prospect-poor -- might be a decent fit.
Dan Haren
would look good in Anaheim, but the Angels might not have the "wow" package the
Diamondbacks
say it would take. More likely than going ace shopping would be going to get someone like
Kyle Farnsworth
or
Jake Westbrook
.
Reliever:
The market for relievers is not good. The Angels might be left to pick over the Toronto bullpen and decide whether they want
Scott Downs
,
Jason Frasor
or
Kevin Gregg
.
David Aardsma
is available in Seattle, or they could try to pry
Royals
closer
Joakim Soria
.
Bat:
It's conceivable the Angels could be in play on any of the big names. First basemen
Derrek Lee
,
Prince Fielder
and
Lance Berkman
could be had for a price. That might seem short-sighted, given that Morales will be back next year, but the Angels are under the gun. They might be better off going after someone to play third, where the Angels don't have a good long-term option, but the crop there is less impressive. Or despite
Adam Dunn
's insistence that he doesn't want to be a DH, the Angels could get him and make him do it anyway.
Trade chips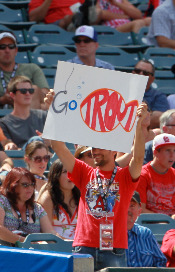 Here's the biggest problem the Angels face: The cupboard is seriously bare in the upper minors. On Sunday, they used Paul McAnulty (called up July 4) to pinch-hit in extra innings, then designated him for assignment after the game. That's how thin they are -- guys they're calling up to help are throwaways.
At a minimum, the Angels are going to have to part with switch-hitting Triple-A catcher Hank Conger, who's batting .265 at Salt Lake City. There's also Triple-A first baseman Mark Trumbo, who hits a lot of homers but strikes out a lot.
Of course, the Angels do have one monster prospect in outfielder Mike Trout at Class A, but he's considered a potential superstar and it's tough to see them giving him up even under the current win-now pressure.

Predictions
The Angels will find a way to get one of the big bats and add at least one reliever. Reagins is going to have to gut what's left of his farm system to do it, so he'd better hope it works.
-- David Andriesen
More trade deadline chatter --
Buyers:
New York
Yankees
; Sellers:
Florida
Marlins

For more baseball news, rumors and analysis, follow @cbssportsmlb on Twitter.