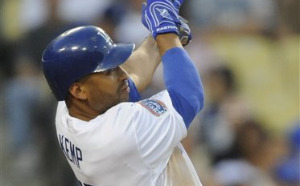 If you were a general manager and had a chance to acquire a 25-year-old center fielder who is in the middle of his fifth major-league season with a cumulative line of .291/.340/.477 with 100 stolen bases and in the middle of a season that will see him hover around 100 RBI, 100 runs, 30 homers and 30 stolen bases, wouldn't you jump at the opportunity to acquire him? Wouldn't anyone?
Of course. That's why Ned Colletti of the
Dodgers
has no intention of making
Matt Kemp
available.
"He's a gifted, five-tool player. He's getting better and better. He's had a tough couple of months," Colletti
told
Bill Shaikin of the
Los Angeles Times
. "It's a baseball career. It's not a baseball two months. I have no intention of moving him."
Kemp has come under fire the last two months for hitting a cumulative .221/.269/.396 since June 1. He was benched for three days straight after blowing up when constantly reminded about doing the little things in the game (such as backing up second on a throw), as Shaikin notes. Kemp had to approach Torre and clear the air instead of having the manager approach him.
That disconnect between Kemp and the old-school management is what fuels the fire of a trade -- and will continue to do so until or when a new ownership or management group comes in with a grasp on how to approach players like Kemp.
Shaikin compares Torre's strategy to that of Mike Scioscia, manager of the
Angels
. The latter would have reamed Kemp out privately, moved on and checked in with Kemp later on the field. Torre did neither.
That's not to say Torre doesn't think Kemp can't evolve into an impact player -- just that he needs to start trying.
"When you have talent, a lot of times you let your talent take care of you," Torre said. "That's an adjustment you have to make. You need to grow with your ability."
"The one thing he's proven to me is he continually wants to get better," Torre added. "He ran into a roadblock in June. He wasn't getting better. It frustrated the hell out of him."
Both sides believe that Kemp's career in Los Angeles can still work out. Both sides just need to give it time.
The fact that both sides are unhappy with his production when his numbers dwarf what many can cobble together just goes to show how much of a talent Kemp is, and how important it is to L.A. that the talent be realized in Dodger blue.
Don't bet on a Kemp trade any time soon.
-- Evan Brunell
For more baseball news, rumors and analysis, follow @cbssportsmlb on Twitter.