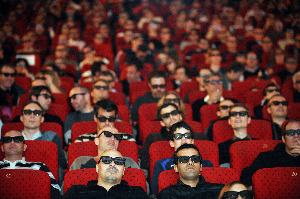 I have seen the future, and the future is extremely cool.
Safeco Field hosted the first regional Major League Baseball broadcast in 3D on Friday night, showing the
Mariners
-Yankees game. DIRECTV will be showing the All-Star Game in 3D, and the crew that will be handling that is using the Saturday and Sunday games in Seattle to make sure all the technical aspects run smoothly.
A viewing station, with a big-screen 3D TV and glasses, was set up in the press box. After watching an inning, I went from thinking that buying a 3D TV was ridiculous to wondering how long I'd have to live on ramen noodles to save up for one. Baseball is simply stunning in 3D, and it made a much bigger difference than I expected.
The overhead shots of plays on the field don't look a whole lot different than a good HD telecast, but the field-level shots are a whole different experience from anything you've ever seen. In particular, the low camera angle from behind the home plate umpire is astonishing. I could clearly see the precise path of
Felix Hernandez
's slider.
It's going to take some time for 3D technology to make its way into a large number of American homes, and for games to be regularly broadcast in the format. But for baseball fans, 3D is going to change everything.
-- David Andriesen

For more baseball news, rumors and analysis, follow @cbssportsmlb on Twitter.