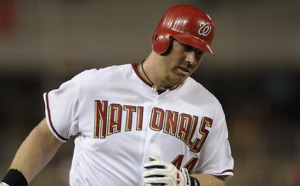 If
Adam Dunn
is trying to boost his trade value, he's certainly doing a good job.
Dunn cranked three home runs on Wednesday as the
Nationals
edged the
Padres
7-6. He has 20 home runs on the year and is well in line to reach 40 home runs for the sixth time in seven years (and barely missed in 2009 with 38). With a .280 mark, he's also well over his .251 career mark.
All told, the free agent to be is having a sensational year, and is available to be traded as the Nationals are not in the playoff hunt. While Dunn may return to Washington after the year, for now his destination for the rest of the year is in question.
Dunn has been linked most heavily to the
White Sox
, but there have been conflicting reports of the ChiSox's interest. ESPN's Buster Olney, however,
says
that Dunn would fit Chicago perfectly and the White Sox are "all over" Dunn.
Dunn can play first base and left field -- perhaps not capably, but he can. And of course, Chicago has the DH slot open for Dunn that he would likely occupy.
Paul Konerko
is all set at first, but on his days off Dunn could step in. As for the outfield,
Juan Pierre
,
Alex Rios
and
Carlos Quentin
occupy these spots, meaning current DHs
Andruw Jones
and
Mark Kotsay
-- who also double as outfielders -- stand to lose a lot of playing time upon a Dunn acquisition.
Jones has been a solid power hitter for Chicago even as he struggles to get over the Mendoza Line while Kotsay isn't bringing much to the plate even though he has a similar OPS to Jones (.722 as opposed to .734 for Jones). Kotsay would probably be the one to lose his roster spot to Dunn.
Dunn in Chicago would be a tremendous fit. The home park is homer-happy, and if Dunn goes on a hot streak, couldn't be discounted for 45 or even 50 home runs in that park. The White Sox would also have the resources to extend him at the end of the year if both teams were pleased with the fit.
Dunn would also get a chance to play for a contender -- his only other time doing so was with Arizona after being swapped from the
Reds
in 2008. 'Zona finished 82-80, second in the NL West, two games behind the
Dodgers
.
Although Dunn expressed interest in returning to the Nationals, that may be because sees Washington on the upswing. Chicago, however, offers him a chance to see October in 2010 as the Pale Hose are just 1 1/2 games behind Detroit, tied with Minnesota for second.
-- Evan Brunell

For more baseball news, rumors and analysis, follow @cbssportsmlb on Twitter.