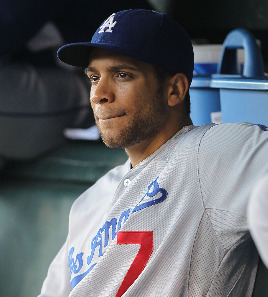 After being benched Tuesday, taking Matt Kemp's benching to three consecutive days, Kemp wondered what was up, so asked to speak to manager Joe Torre.
Now, Kemp will be in the lineup Wednesday against the Giants.
While neither would talk about why the center fielder was benched, a witness told MLB.com that Kemp had blown up at a coach in the dugout during Saturday's game. The benching then began the following day.
Torre refused to speculate on whether Kemp would have been in the lineup Wednesday had the 25-year-old not requested the meeting. "I don't know that," Torre said about Wednesday's lineup. "I thought the talk went well.
"I get the chance to write the lineup every day and I put in who I put in," Torre added.
"I don't make the lineup," Kemp said about the situation. "I just come here ready to play every day. If I'm in the lineup, I'm ready to go. If not, I'm still ready to go."
Kemp has struggled in 2010 after setting high expectations the season prior. He hit .297/.352/.490 with 26 home runs, winning a Gold Glove and Silver Slugger. This year, he's at .258/.316/.455 and has plunged to a .196/.252/.326 line.
"I did everything I needed to do to have as good a season as I did last year," Kemp said about his struggles. "I've still got a whole half-season to turn this thing around and for us to do all the great things we did last year."
Torre sympathized, saying the season has clearly been frustrating for Kemp and played up the three-game benching. "Hopefully these days will give him a chance to breathe a bit," he noted. "It's a tough game to play. He's a young man and you don't get a chance to regroup. He's played so much. It just looks like he's frustrated."
-- Evan Brunell

For more baseball news, rumors and analysis, follow @cbssportsmlb on Twitter.